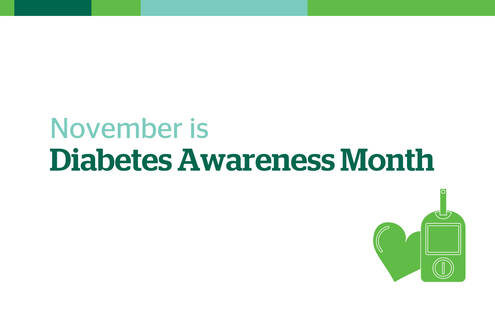 According to the New Hampshire Department of Health and Human Services, approximately 97,000 people in New Hampshire, or 9% of the adult population, have diagnosed diabetes. An additional 29,000 people in New Hampshire have diabetes but don't know it, greatly increasing their health risk. Every year an estimated 7,000 people in New Hampshire are diagnosed with diabetes.
At New London Hospital (NLH) we are fortunate to have 2 Certified Diabetes Care and Education Specialist (CDCES): Lauri-Ann Smerald RN, CDCES, and Lynda Hoffmann MPH, RD, CDCES, LD, working together using a team approach to provide Diabetes Self-Management Education (DSME) and Medical Nutrition Therapy (MNT).
"Our goal is to work in partnership with our patients to help them learn how to live healthy with diabetes," says Lauri-Ann Smerald. "Every patient requires a specific plan that will work for them and we help them on their journey."
Lynda Hoffmann shares these keys to diabetes prevention and management:
Be more physically active every day and limit time sitting. Set an alarm to remind you to move. Aim for 30 to 60 minutes of moderate activity daily.
Reduce excess body fat, especially around the waist. Aim for waist to hip ratio of <0.95 for men and <0.8 for women.
Learn stress reduction behaviors including good sleep hygiene and stress reduction breathing.
Know what your blood sugar numbers are and what keeps you in the target range.
Keep well hydrated by drinking plenty of non-calorie beverages (for example, water, seltzer and herbal tea). If you're thirsty you are already 1/3 dehydrated.
Avoid non-calorie sweeteners (for example, Equal, Sweet-N-Low, saccharine and Stevia).
Follow a Healthy Plate for diabetes prevention and management.
Healthy Plate
Fill ½ your plate with non-starchy vegetables of a variety of colors.
Fill ¼ of your plate with lean meat or plant protein sources.
Fill ¼ of your plate with whole grains or starchy vegetables or a fruit.
Chose whole grains like oats, whole-wheat breads, quinoa, and brown rice. Starchy vegetables include green peas and legumes (beans), potatoes, sweet potatoes, corn, and winter squash.
Emphasis on quality food
In an effort to better serve the dietary needs of patients and staff, NLH recently hired Glendale Dining Services (GDS) to oversee the food service.
"We take pride in our working relationships and customize programs specific to each of our locations," shares Todd Lindsay, vice president, Sales & Business Development, GDS. "We have a quality team of dining managers, professional chefs and registered dietitians, placing a premium on food quality and preparing healthy, restaurant-inspired meals to satisfy diverse tastes and dietary requirements. Our menus feature fresh, seasonal ingredients from local, regional and national suppliers."
Hospital food has often been the punchline for many jokes, but at NLH quality food is where the joke ends. "We listen to our patients and appreciate all feedback—positive and negative," says Bentley Gallo, patient experience manager. "We are constantly striving to give our patients the best path to better heath, and partnering with GDS is just another way we can meet their needs."
For more information about diabetes and to take a prediabetes risk test, visit the American Diabetes Association website. To learn more about GDS, visit the Glendale Dining Services website.