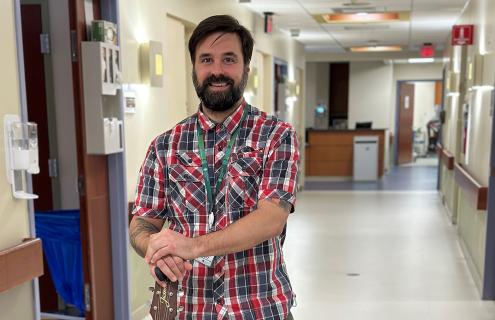 On the inpatient units at hospitals, including New London Hospital (NLH), it's common for patients to endure extended stays. The reasons and challenges vary, but the staff's goal is to make sure the patient receives the best care available—which includes ensuring that patients and their families have positive experiences. This is where NLH Activities Coordinator David Schneider shines.
In 2009, David was working on a construction site in Long Island and found himself wanting to do more for others. At a crossroads, he decided to go back to college and enrolled at Molloy University, where he followed his passion by pursuing a degree in music therapy. Soon after, David made his way to New Hampshire, securing part-time opportunities in recovery centers and hospitals. In June of 2022, he became the activities coordinator at NLH.
David is responsible for creating and organizing recreational and therapeutic activities, with the goal of providing an uplifting experience that can assist with a patient's physical and emotional healing. He implements a variety of activities and programs such as games, arts and crafts, music and simple strolls outdoors.
"Every patient is unique and what I am able to do for them is obviously dependent on their condition, but my goal is to find that zone where they can benefit from some simple, enjoyable activities," explains David. "I'm considered the fun guy around here, and I take great pride in spreading joy during some often very challenging times for our patients—whether they are here for one day or 200."
While David's day is never routine, there are some daily consistencies around lunch time, when he takes a stroll to the cafeteria with Marianne, a long-term patient of more than 200 days. What follows is an hour-long session of cribbage, during which Marianne enjoys some cards, conversation and relief. Later in the afternoon, David grabs his guitar and heads to Dana's room, where Dana and his mother are preparing for their afternoon music session. Dana is a paraplegic, and even though he struggles vocally, David is able to help Dana sing along to some of his favorite music. David even made a songbook— just for Dana—which includes his most loved tunes.
"What David brings to our patients is invaluable," says Nicole Wakeman, nurse manager of Inpatient Services. "He provides stability and engagement, which, especially for our longer-term patients, is so critical for their mental health."
It's been more than 10 years since David changed the direction of his life, which has had countless positive ripple effects. The staff and patients of NLH appreciate David's meaningful contributions and how he enhances the patient experience—every day.