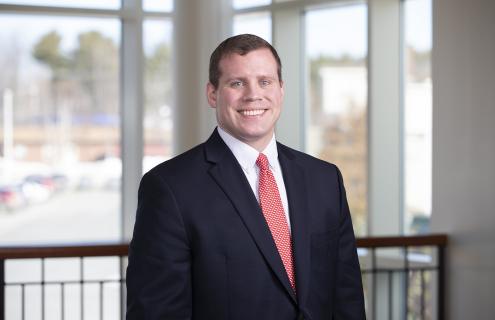 After an extensive search, Martin Thomas (Tom) Manion has been named the President and CEO of New London Hospital. Tom succeeds Bruce King, who announced his intention to retire at the end of 2019, after 16 years leading New London Hospital and with over 32 years in the Dartmouth-Hitchcock Health system.
Manion joins New London Hospital from the University of Vermont Health Network – Porter Medical Center in Middlebury, Vermont, where since 2017 he has served as vice president of Porter Medical Group. From 2012 to 2017, he also served in a variety of increasingly senior roles at Bassett Medical Center in Cooperstown, New York including network director, Delivery System Reform Incentive Payment Operations and Strategic Planning and director of Musculoskeletal Divisions. While at Bassett he also oversaw the establishment of the hospital's first medication assisted treatment program for opioid addiction and served as manager of Bassett's Cancer Treatment Center.
"I was drawn to New London Hospital because of its great reputation of providing excellent care to its community and its partnership with Dartmouth-Hitchcock Health to keep care local," said Manion. "That feeling of commitment became even more evident as I met the employees, medical staff, and the board of trustees. I look forward to meeting each employee, learning about how I can serve them in my role, and, most of all, calling the Kearsarge Sunapee region my home."
Manion holds a Master of Public Administration, Health Services Financial Management from New York University, a Bachelor of Science degree in Biology from St. Lawrence University, and a Certificate in Change Leadership from Cornell University. He is a Fellow of the American College of Healthcare Executives, a Certified Lean Six Sigma Green Belt, and a Certified Medical Practice Executive.
"Given his impressive background, Tom is familiar with the demands and challenges of being part of a complex health system, while focusing on providing excellent care to the communities he serves," said Doug Lyon, Chair of the New London Hospital Board of Trustees. "It is clear from his experience that he has the skills and knowledge to lead New London Hospital into a very successful future of patient care and outstanding management focused on the needs of the greater New London and Newport service areas."
Manion will begin his new role in early March and will be responsible for directing the day-to-day operations of New London Hospital which has been an integral part of the community for over 100 years, and continuing to deliver high-quality exceptional patient care and stewarding the existing environment of service at the hospital and Newport Health Center.