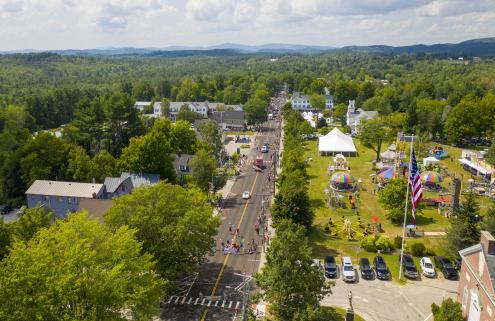 When I joined New London Hospital (NLH) in March of 2020, the most addressed topic in conversations, besides COVID-19, was Hospital Days. Staff and community members shared stories of what this event means to our region. Tales of the parade, dunk stool and the Midway reassured me I landed in the right place for my family. Unfortunately, the pandemic had other plans—forcing us to postpone my inaugural experience.
I'm thrilled to share that next Thursday, August 4, Hospital Days will begin and we're ready! Our staff is working hard with the community to make up for the two year hiatus. The schedule is packed with many of the staples that make Hospital Days special, including the parade, which has been moved up to 10 am on Saturday, August 6. We hope this new time will allow families an improved schedule flow to enjoy the day's various activities.
Also, we're very excited about the new addition to the schedule; Stars Above: An All American Open Air Circus. With five show times beginning on Friday, August 5, this unique family-friendly show will take place on the Colby-Sawyer Quad. For showtimes and to purchase tickets, please visit our website.
As we plan to gather as a community once again, it's important to note that COVID-19 cases in New Hampshire are rising. While most cases are mild, some are not—and we're seeing an uptick in COVID-19-related hospitalizations. We understand the fatigue many are experiencing when it comes to addressing various COVID-19 preventative measures, but if we want to move forward with events and community gatherings like Hospital Days, we all need to do our part.
I encourage everyone to be diligent. If you are experiencing symptoms or may be considered high risk, please wear a mask when in group settings. We certainly hope the latest trend in cases subsides, but the key to getting these numbers down is prevention, including masking and vaccination.
I want to thank all the community members who have stepped up to assist NLH's efforts in preparing for Hospital Days. Now, let's cross our fingers for good weather.
See you next week!
Tom Manion, MPA, FACHE, CMPE
President and CEO
New London Hospital