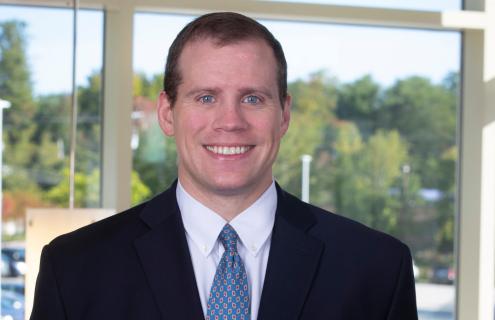 As we continue to share salutations of Happy New Year, the reality of where we are in the COVID-19 pandemic is a discouraging start to 2022. We have all been impacted, whether directly or indirectly, with the rise in positive cases in our region. The spread in our community is at the highest level since the pandemic's beginning—and we are left with the uncertainty of what lies ahead.
It is important for me to share the importance of getting vaccinated, masking and refraining from large gatherings, but for many, these words have become as common as the greetings we share when passing by acquaintances. It is our normal. Instead, I want to share the challenges we are facing as a community and here at New London Hospital (NLH).
We are your neighbors
Heading into the third year of the pandemic, many of us are exhausted, confused, and at times, angry at the current situation. These feelings are understandable, however, at NLH we are beginning to see a manifestation of these feelings into actions that are simply sad to witness.
Our staff is forced to deal with disgruntled patients on a daily basis. While it is not a large percentage of patients, it happens enough to emotionally drain an already tired team of caregivers. We need your help! We are your neighbors and are proud members of this community. In the beginning of the pandemic we used terms like, "we are in this together," to demonstrate unity. Our hope is that we can move forward with the core values and respect these words reflect. While we are currently facing staffing challenges that are impacting the care we strive to provide, we are addressing them and ask for your patience during this process.
COVID-19 testing
We are conducting the highest number of daily COVID-19 tests to date. NLH and Newport Health Center (NHC) will continue to offer COVID-19 testing to the communities we serve. However, appointments are required for our drive-through testing sites. Please call your local primary care office (NLH: 603-526-5544; NHC: 603-863-4100) to speak with a member of our team. If a triage nurse isn't immediately available, a staff member will ask you a few questions and a nurse will return your call to discuss whether you qualify for a test. If so, the nurse will assign you a time at our drive-through clinic. You will not receive a test without an appointment. Please note: NLH Express Care is not a walk-in testing location.
Express Care
Our Express Care service (open 9:00 am to 7:00 pm, Monday through Friday; 9:00 am to 5:00 pm Saturday; 9:00 am to 3:00 pm Sunday) is receiving some positive feedback. We hope our community will take advantage of the many benefits this service provides. For more information, please visit New London Hospital Express Care or call 603-526-5155.
I know we will get through these difficult times and once again share in-person gatherings without masks and fear. Please join me in practicing acts of kindness every day—which helps our community in a time when it is most needed.
Thank you,

Tom Manion, MPA, FACHE, CMPE
President and CEO
New London Hospital