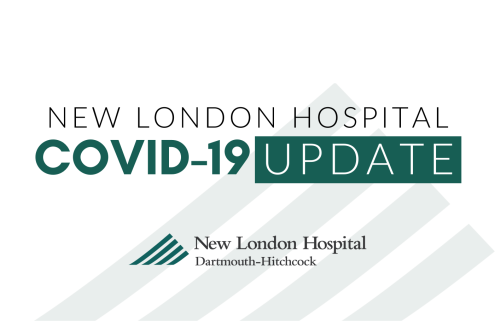 While it was our collective hope to head into the New Year less anxious about the COVID-19 pandemic, that clearly will not be our reality. I have spoken with many community members, and have fielded a variety of questions ranging from COVID-19 testing and vaccines to our current services, and would like to share some updates with you.
COVID-19 impact
In New Hampshire, we are experiencing the highest number of cases since the beginning of the pandemic—leading the nation for new COVID-19 cases per capita. Depending on the day, there are virtually no ICU or medical/surgical beds available in the state. While NH has the lowest vaccination rates in New England, I am pleased to share that New London Hospital (NLH) and our Newport Health Center (NHC) were able to vaccinate nearly 300 children during recent clinics.
The impact we are experiencing as a result of the increase in cases is reflected across our service lines. Unfortunately, this has forced a temporary pause on surgical admissions for the month of December. This will allow us to increase bed capacity but will hamper our community's access to this care. We will continue to conduct same-day surgeries and procedures and will reevaluate our ability to handle cases that require admission in January.
While we did not need to terminate the employment of any staff members due to the Dartmouth-Hitchcock Health (D-HH) vaccine mandate, we continue to be short-staffed in nearly every area of our hospital. A direct result of our nursing shortage is a limit on the number of beds we can fill. Assuming we maintain our current nurse roster, we hope to return to full capacity by the end of December.
COVID-19 testing
NLH and NHC will continue to offer COVID-19 testing to the communities we serve. However, appointments are required for our drive-through testing sites. Please call your local primary care office (NLH: 603-526-5544; NHC: 603-863-4100) to speak with a member of our team. If a triage nurse isn't immediately available, a staff member will ask you a few questions and a nurse will return your call to discuss whether you qualify for a test. If so, the nurse will assign you a time at our drive-through clinic. You will not receive a test without an appointment.
COVID-19 vaccination
Our limited staffing resources will continue to be focused on testing. We only have a handful of staff in our primary care clinics, which limits our ability to see our normal patient volumes. For that reason, NLH will rely on local pharmacies and state-run vaccination sites for patients who wish to receive COVID-19 vaccination. If our staffing capabilities improve, we will revisit the possibility of offering additional vaccination clinics.
Service update
We have received several concerns about the lack of openings for new patients in our primary care office. We have been working hard to address this and are pleased to announce we have hired two primary care providers, along with a women's health provider. We will share more details and appointment availability in the New Year once they are introduced. Thank you for your patience and understanding in the meantime.
Finally, I am thrilled with the community response to our Express Care service (open 9:00 am to 7:00 pm Monday through Friday; Saturday 9:00 am to 5:00 pm; Sunday 9:00 am to 3:00 pm). We saw 70 patients in our first week and the feedback has been fantastic. We are heartened to offer this much needed regional service.
Please join us in helping end this pandemic by wearing face masks and getting vaccinated. If you are still hesitant, please contact us to discuss your concerns.
I wish you all a happy and healthy holiday season.
Thank you,
Tom Manion